Abani K. Pradhan, Ph.D.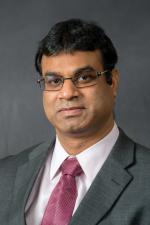 Associate Professor and Director of Graduate Program UM - Department of Nutrition and Food Science, CFS3
United States
Curriculum Vitae (CV)
Biography
Dr. Abani Pradhan is an Associate Professor in the Department of Nutrition and Food Science & the Center for Food Safety and Security Systems at the University of Maryland in College Park (UMD). He is also the Director of Graduate Program in Nutrition and Food Science at UMD since 2017. He has been serving as the faculty advisor of the UMD Food Science Club (since 2012) and Nutrition and Food Science Graduate Student Organization (since 2017). Prior to joining UMD in 2011, he was a Research Associate at Cornell University.
Education:
Postdoctoral Training. Cornell University, Ithaca, NY. 2011
Ph.D. University of Arkansas, Fayetteville. 2006
M. Tech. Indian Institute of Technology (IIT), Kharagpur. 2001
B. Tech. Orissa University of Agriculture and Technology (OUAT), India. 1998
Research interests of Dr. Pradhan's group are broadly in the area of food safety and risk assessment. Many foodborne pathogens such as Listeria monocytogenes, Salmonella, pathogenic Escherichia coli, and Toxoplasma gondii are of serious food safety and public health concerns as they can cause life-threatening diseases in human populations. The continuing incidence of foodborne disease outbreaks and food recalls in the U.S. and across the globe clearly demonstrate the need for improvement in the safety and security of our food supply. Because of the highly complex issues currently challenging the management of food safety risks on an international basis, advances in food safety risk assessment are crucial for providing a more scientifically sound basis for informed management and policy decisions.
By integrating experimental and field data with mathematical modeling, and developing predictive and risk models, we have been conducting interdisciplinary research to address critical food safety issues related to foodborne pathogens in different food categories such as fresh produce, meat and poultry, dairy products, and low moisture foods: pet foods and chocolate. We are also exploring to develop and utilize appropriate methods and approaches to integrate molecular data (e.g., whole genome sequencing) and risk models to evaluate public health. Research results will inform in guiding several stakeholders such as policy makers, government agencies, consumers, academia, and food industry in improving food safety and public health.
Awards and Honors:
The Paul R. Poffenberger Excellence in Teaching and Advising Award, College of Agriculture and Natural Resources, University of Maryland, College Park, 2018
Chauncey Starr Distinguished Young Risk Analyst Award, Society for Risk Analysis (SRA), 2015
Excellence in Instruction Award, Alumni Chapter-College of Agriculture and Natural Resources, University of Maryland, College Park, 2015
On-Campus Junior Faculty Award of Excellence, College of Agriculture and Natural Resources, University of Maryland, College Park, 2014
Honored Faculty, 6th and 7th Annual University-Wide Celebration of Scholarship and Research, University of Maryland, College Park, 2013 and 2014
Johne's Disease Integrated Program (JDIP) travel award, JDIP 6th annual conference, Denver, Colorado, 2010
Johne's Disease Integrated Program (JDIP) travel award, 10th International Colloquium on Paratuberculosis (ICP), Minneapolis, Minnesota, 2009
Student Merit Award, Exposure Assessment Specialty Group-Society for Risk Analysis (SRA), 2006
1st place award winner, poster competition, Food Safety Consortium (FSC) annual meeting, 2005
Student Travel Award, Society for Risk Analysis (SRA), SRA annual meeting, 2004
2nd place award winner, poster competition, Arkansas Section of American Society of Agricultural and Biological Engineers (ASABE) annual meeting, 2004
Student Travel Award, Society for Risk Analysis (SRA), SRA annual meeting, 2003
3rd place award winner, poster competition, Food Safety Consortium (FSC) annual meeting, 2003
Institute Silver Medal for the best graduate student in the Department of Agricultural and Food Engineering, Indian Institute of Technology (IIT), Kharagpur, India, 2001
German Academic Exchange Service (DAAD) Scholarship, Federal Republic of Germany, 2000-2001
Graduate Aptitude Test in Engineering (GATE) Fellowship, Ministry of Human Resource Development, Government of India, 1999-2001
Basudev Prasad Modi Gold Medal for securing the top position (rank 1) among all graduating students (Bachelor's degree) of all Colleges, Orissa University of Agriculture and Technology (OUAT), Bhubaneswar, India, 1998
University Gold Medal for securing the top position (rank 1) among all graduating students (Bachelor of Technology) of the College of Agricultural Engineering and Technology, Orissa University of Agriculture and Technology (OUAT), Bhubaneswar, India, 1998
University Merit Scholarship, Orissa University of Agriculture and Technology, Bhubaneswar (OUAT), India, 1994-1998