Informatics and IT
JIFSAN-CFS3 provides technological support for a broad portfolio of food safety, risk assessment, and applied nutrition web applications and software: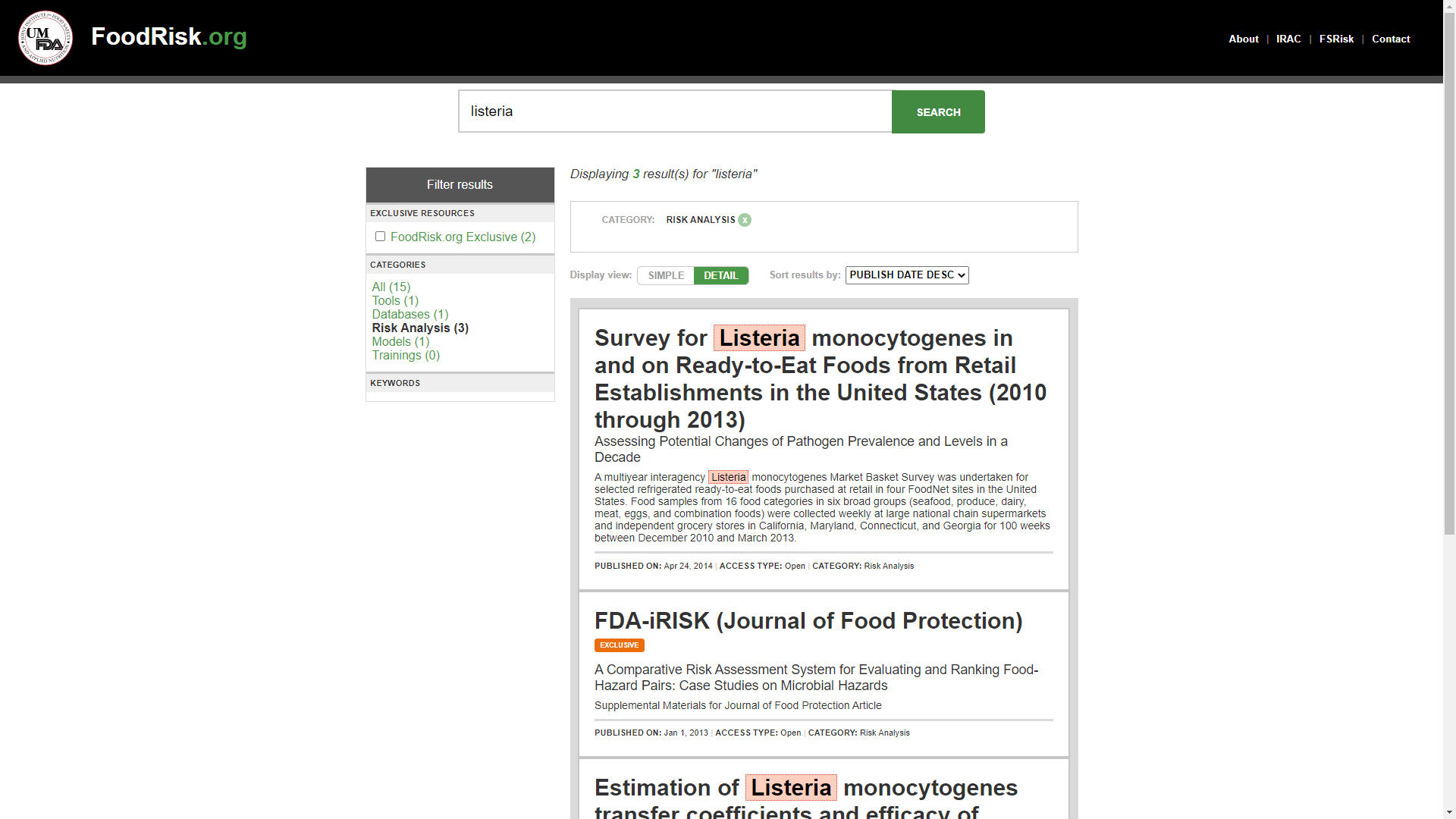 FoodRisk.orgmore_vert
FoodRisk.orgclose
Description
Foodrisk.org is a metadatabase of tools and models for food safety professionals in industry, academia, and government. It was established to be a "one-stop shop" for the risk analysis community to find access to a number of tools, data, analysis, and reports to aid them in conducting risk analysis. It is also home to the Interagency Risk Assessment Consortium (IRAC) and the Food Safety and the Food Safety Risk Analysis Network for the Americas (FSRisk). FoodRisk.org facilitates the transfer of PC-based tools to web-based tools, so that they are freely available to the risk analysis community.
Contact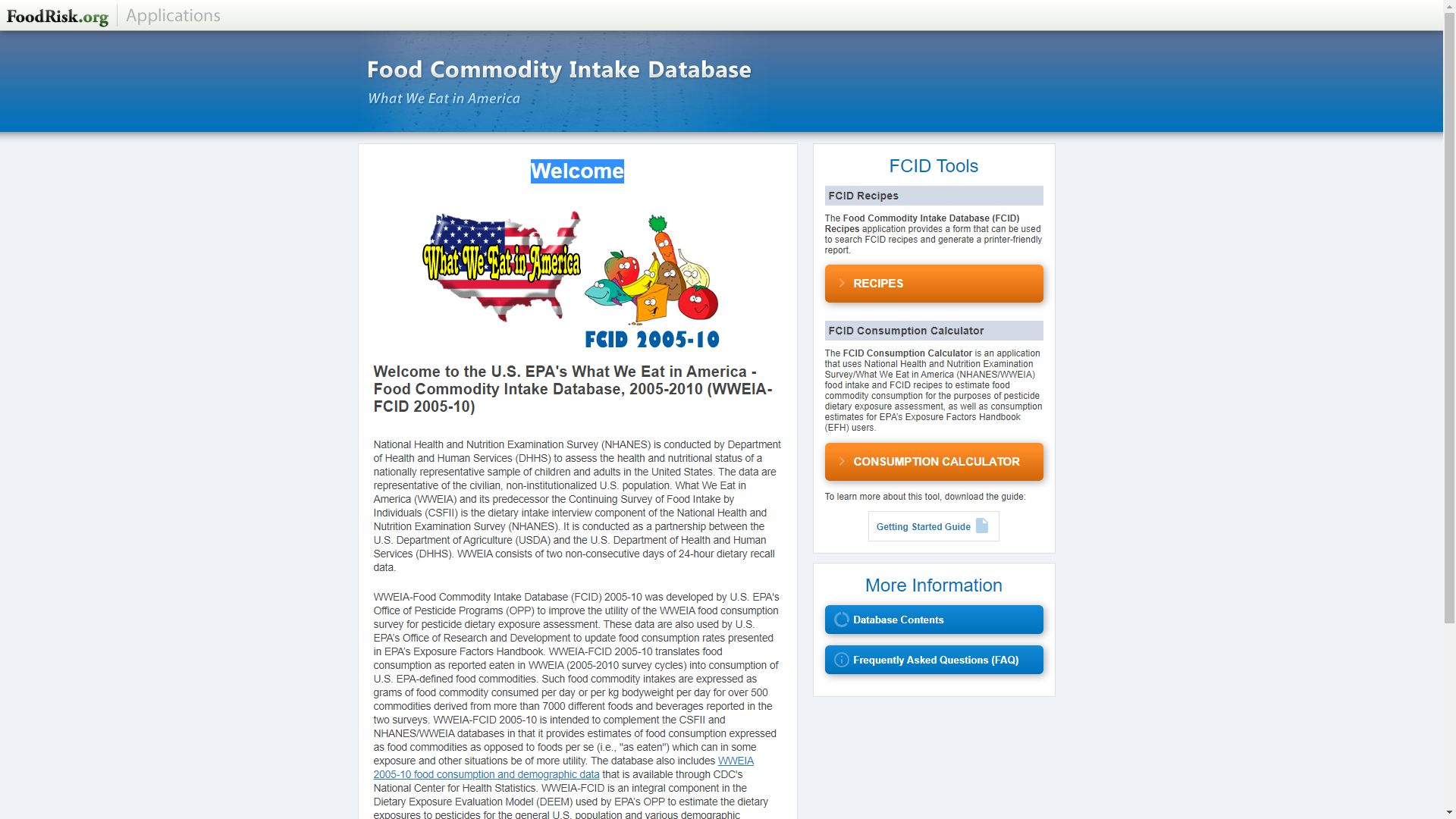 FCIDmore_vert
Food Commodity Intake Database (FCID)close
Description
The Food Commodity Intake Database (FCID) calculates consumption levels of EPA-defined food commodities using data from the What We Eat in America (WWEIA, 1999-2008) and the Continuing Survey of Food Intakes by Individuals (CSFII, 1994-1996 and 1998) surveys. This application consists of two main parts: a recipe search and a consumption calculator.
The application was developed by the EPA's Office of Pesticide Programs (OPP) to improve the utility of the WWEIA food consumption survey for dietary exposure assessment. The tool was converted into a web application by JIFSAN, in collaboration with the EPA.
Contact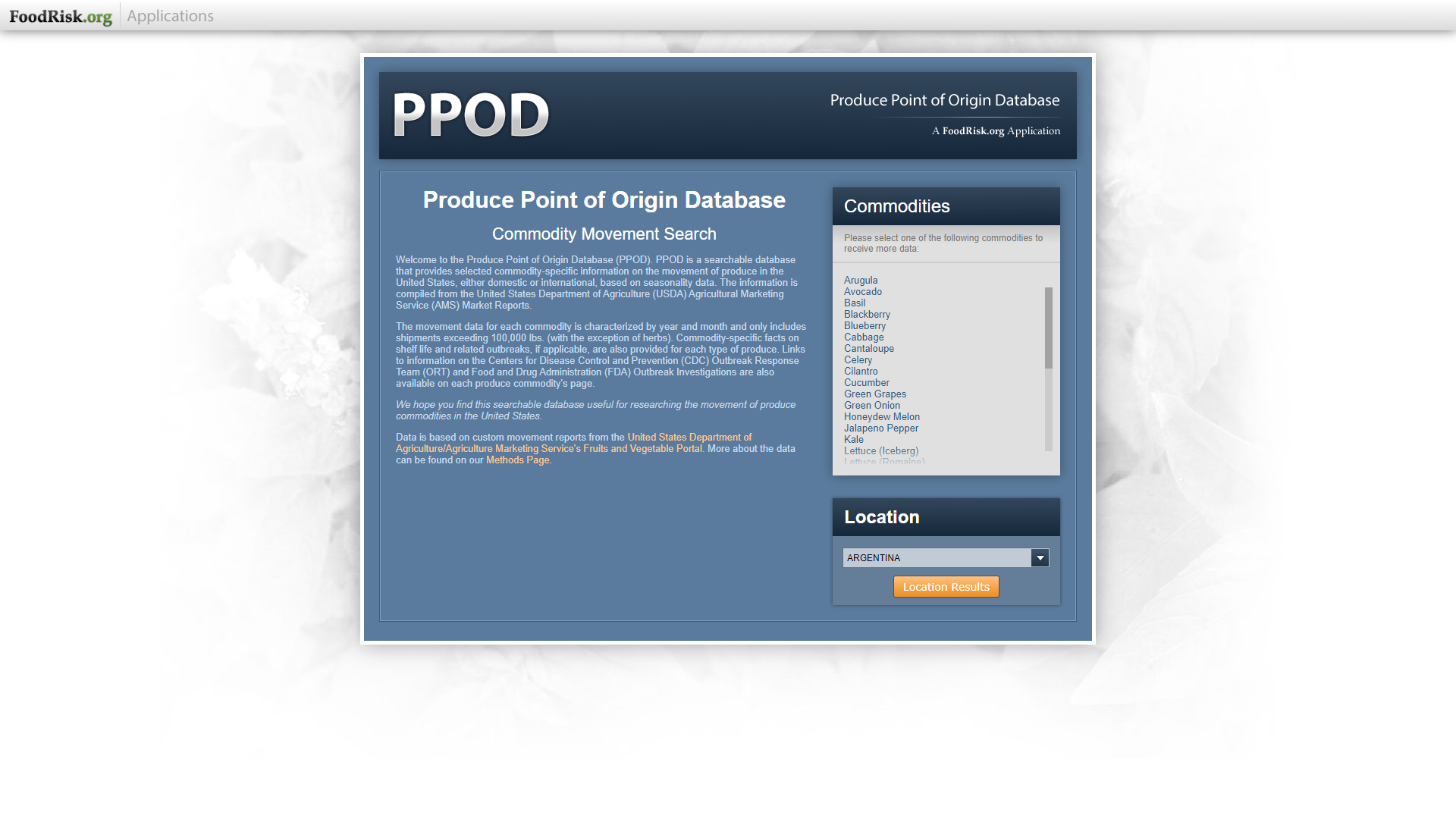 PPODmore_vert
Produce Point of Origin (PPOD)close
Description
The Produce Point of Origin Database (PPOD) helps analysts quickly identify potential origins of produce-borne outbreaks by displaying transport data on food commodities specified by the FDA. Users can choose a commodity to view the commodity's transport data, or they can choose a location and view the location's transport data.
Contact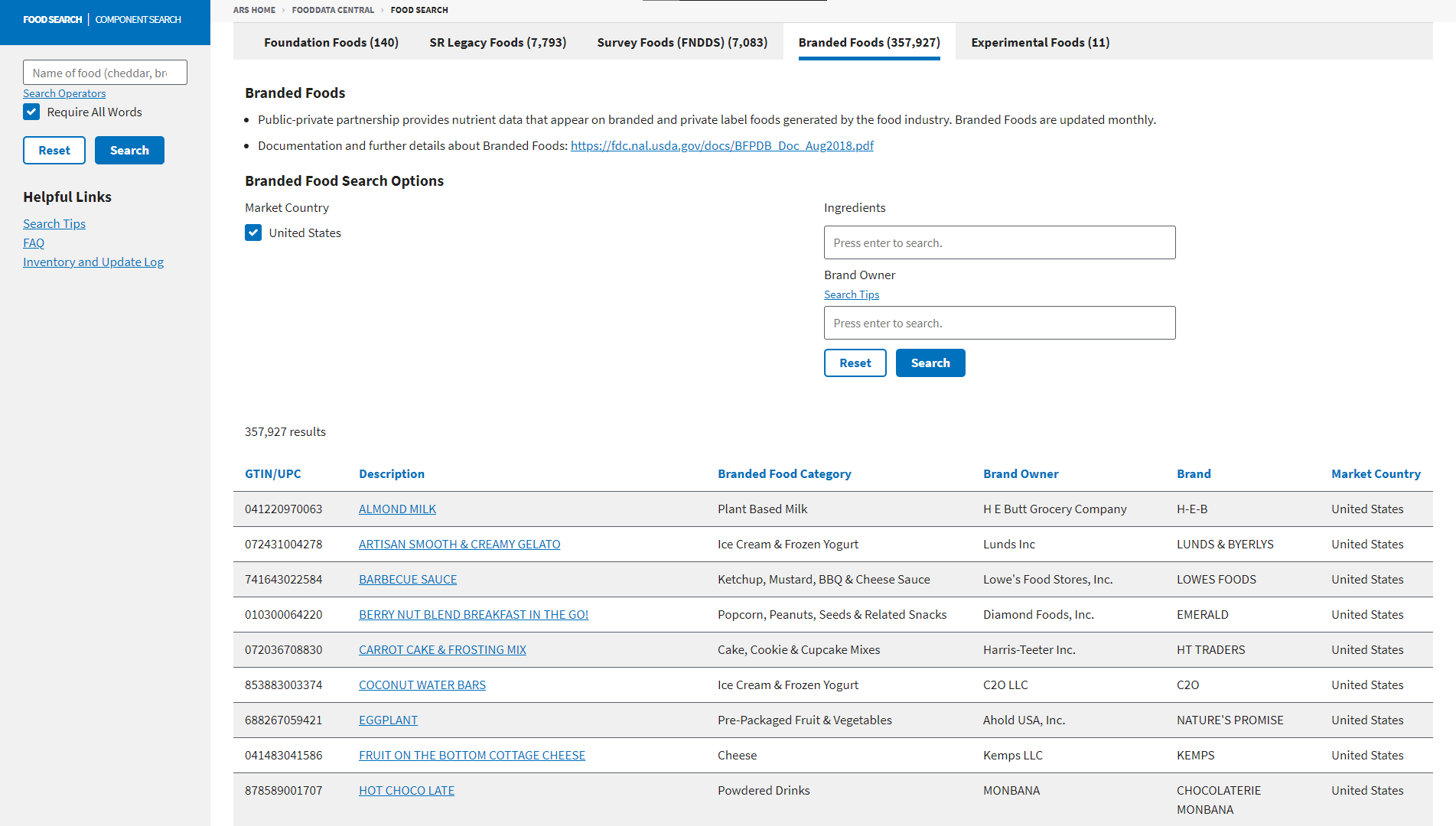 Branded Foodsmore_vert
USDA Global Branded Food Products Database close
Description
The USDA Global Branded Food Products Database brings nutrient data on branded and private label foods to FoodData Central, a website where users can browse a database of foods to learn about their nutrient levels and composition. The Global Branded Food Products Database is made possible by a public-private partnership, which makes information from food industry data providers available to the public for use in research studies, food label regulatory efforts, and product development.
Partners collaborate to enlist participating brands and establish a flow of data from the data providers and FoodData Central.
Partners
Contact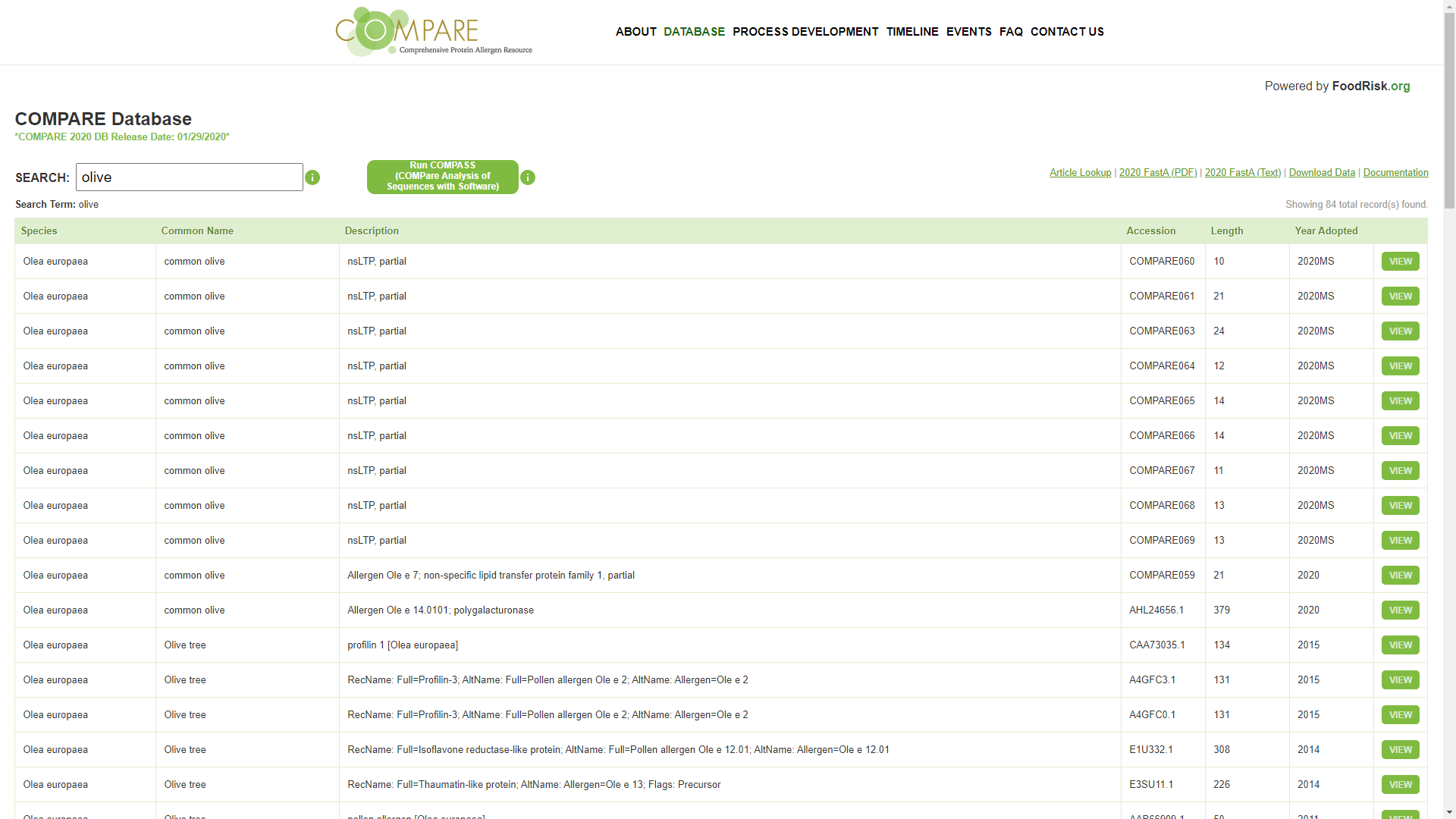 COMPARE Databasemore_vert
COMprehensive Protein Allergen REsource (COMPARE) Databaseclose
Description
The Health and Environmental Sciences Institute (HESI) works with JIFSAN to develop the COMPARE suite of applications, which are centered around a database of allergenic proteins that are identified by a transparent scientific approach. COMPARE is important for supporting safety reviews of novel genetically modified foods and general public safety.
The COMPARE Database browser allows users to search through the COMPARE Database for allergens, with access to information such as accession, descriptions, species, sequences, common names, and related scientific articles.
Contact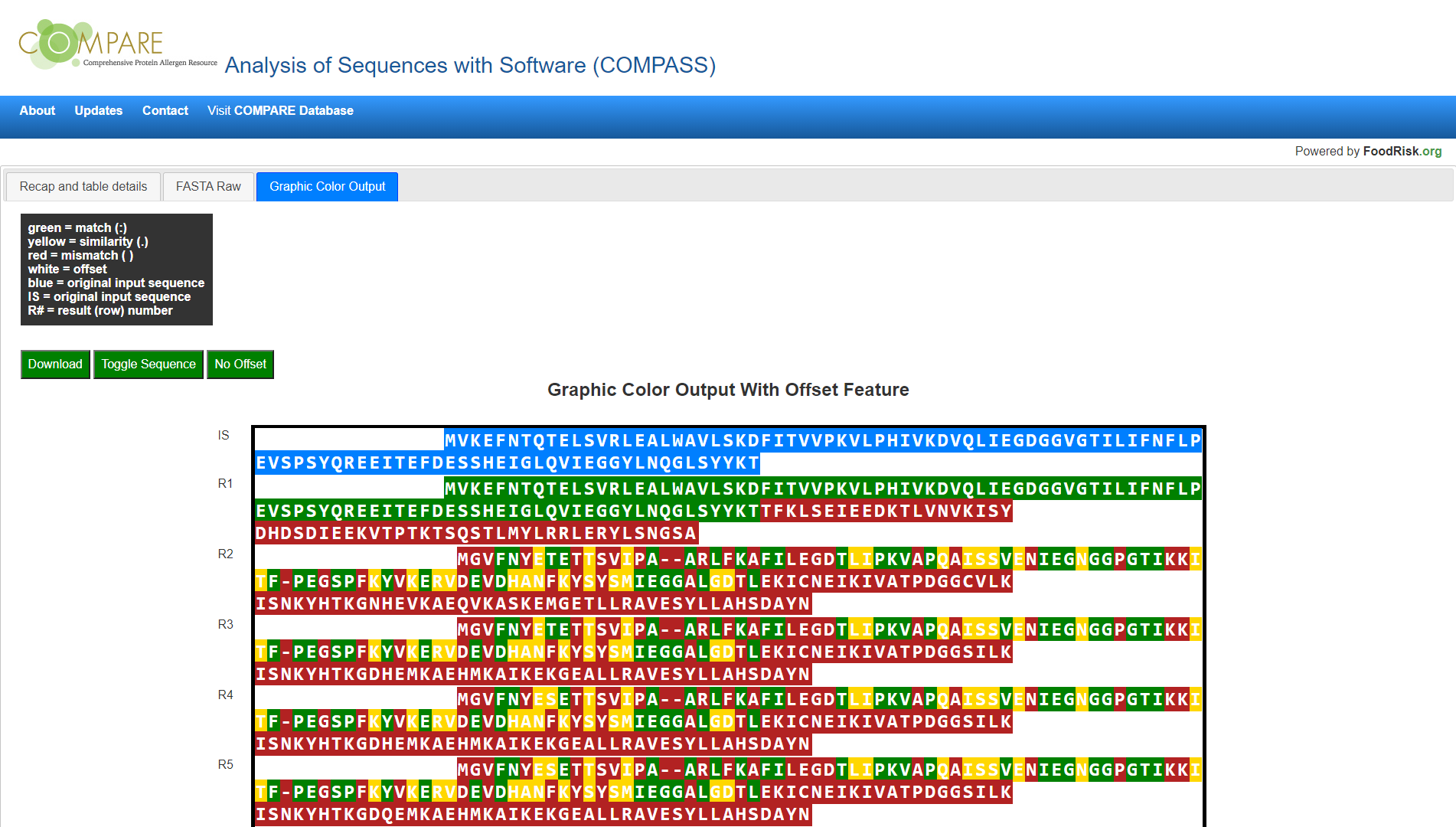 COMPASS more_vert
COMPare Analysis of Sequences with Software (COMPASS)close
Description
COMPare Analysis of Sequences with Software (COMPASS) is an online tool that uses open source FASTA v36 software to let users perform amino acid sequence alignments with information from the COMPARE Database. The tool offers three search options: full length, 80-mer sliding window, and 8-mer.
Contact