Impact of the Pandemic on the Food Supply
JIFSAN-CFS3 Advisory Council Winter Webinar
Impact of the Pandemic on the Food Supply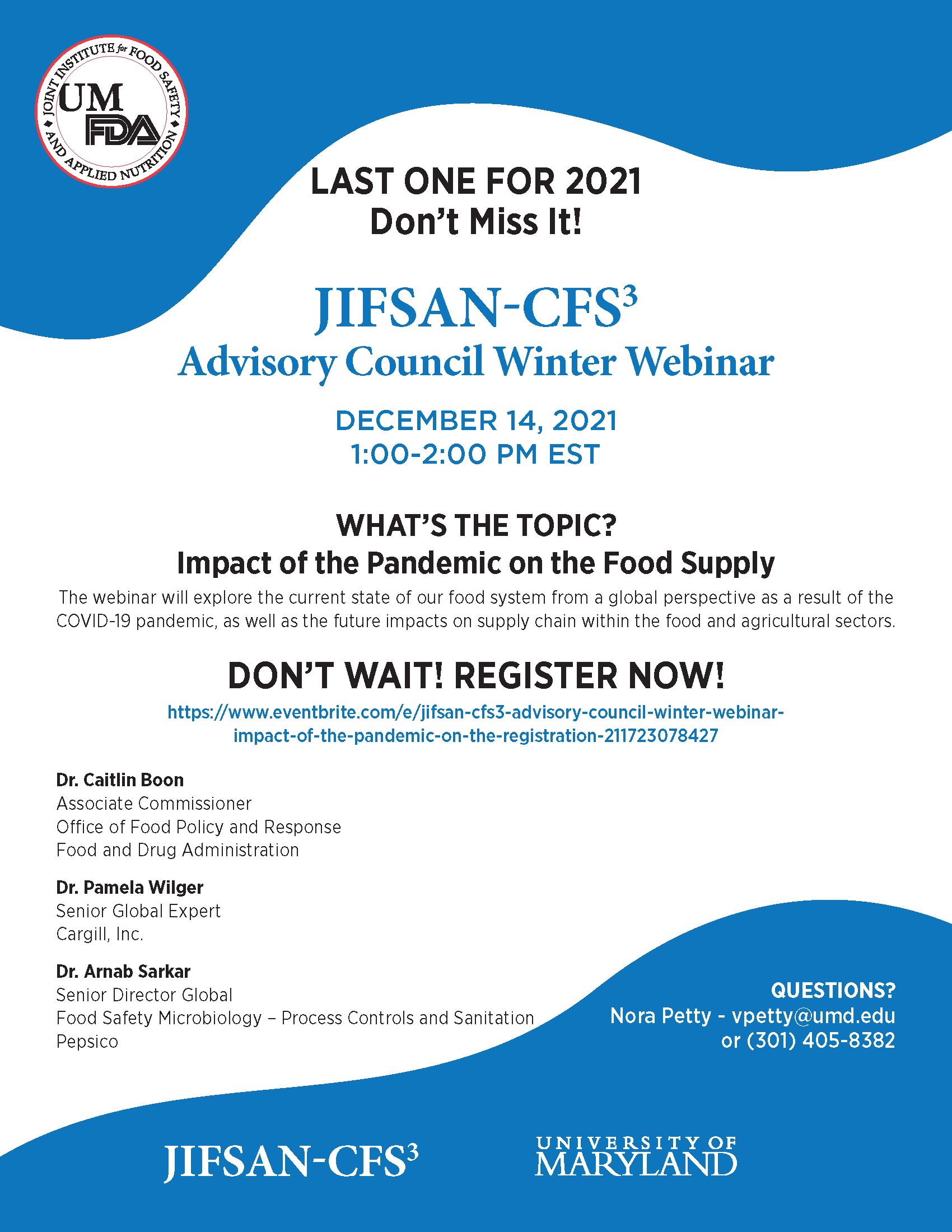 December 14, 2021
1PM - 2PM EST
Program Description
This webinar will explore the current state of our food system from a global perspective as a result of the COVID-19 pandemic as well as the future impacts on supply chain within the food and agricultural sectors.

The COVID-19 pandemic has revealed the growing levels of vulnerability within our global food supply. COVID-19 impacts have led to severe and widespread increases in global food insecurity, affecting vulnerable households in almost every country, with impacts expected to continue through 2021, into 2022, and possibly beyond as the Delta variant continues its spread. Despite the many complex challenges faced, resiliency and collaborative opportunities have emerged to drive positive change in regulations, labeling and supply chain distribution.

We will explore how COVID-19 may strengthen the ability of sectors to work together in more integrated ways through policy, risk assessment and risk mitigation.

An introduction to how discussions around food and food systems must intersect with health and the environment will be presented, as well as critical outcomes from this new normal.
Winter Webinar Speakers
Dr. Caitlin Boon
Associate Commissioner
Office of Food Policy and Response
Food and Drug Administration
Caitlin Boon, PhD serves as Associate Commissioner for Food Policy and Response at the U.S. Food and Drug Administration (FDA). In this role, she serves as advisor to the Deputy Commissioner for Food Policy and Response on a variety of food safety activities including implementation of the FDA Food Safety Modernization Act and other high priority food safety policy development activities, outbreak response and recall activities, and efforts to evaluate and adopt new and emerging technologies to strengthen FDA's ability to address food safety concerns. Most recently, she has also played a leadership role in FDA's efforts to address COVID-19 impacts on the food supply. Previously, Dr. Boon served as Senior Science Advisor to the Chief of Staff, serving as a principal advisor and consultant to the Commissioner and the Chief of Staff on scientific and policy matters relating to food safety, nutrition, and veterinary medicine. Prior to this role, she held several positions in other parts of FDA, including the Center for Food Safety and Applied Nutrition and the Office of Foods and Veterinary Medicine. Dr. Boon also served as an FDA detailee to the Senate Committee on Health, Education, Labor, and Pensions.

Before joining FDA, she worked at the National Academies in the Institute of Medicine (IOM), where she served as study director for food and nutrition related consensus reports and directed the IOM Food Forum. Dr. Boon received undergraduate degrees in Food Science and Poultry Science from North Carolina State University, completed a master's degree in Food Policy at City University London while on a Fulbright grant to the United Kingdom, and received a doctorate in Food Science from the University of Massachusetts Amherst.
Dr. Pamela Wilger
Senior Global Expert
Cargill, Inc.
Pamela received her B.S. and M.S. degrees in Bacteriology from the University of Wisconsin at Madison where she also worked at the Food Research Institute. After graduating she worked for Quest International for just over 11 years in two different locations as the facility microbiologist and lab supervisor and then a researcher in product development of fermented Hydrocolloids. In January of 2001, Pamela joined Cargills Corporate Food Safety, Quality & Regulatory Affairs department as a Global Food Safety and Microbiology Specialist. As of September 1st, 2015 she is now a Senior Applied Food Safety and Quality Microbiologist working more closely with the Cargill businesses manufacturing facilities and laboratories. Pamela is a very active member of the International Association for Food Protection (IAFP), AOAC International, and represents the U.S. through ANSI on the ISO Technical Committee 34/Sub-Committee 9 Microbiology including Working Group 3 for Method Validation.
Dr. Arnab Sarkar
Senior Director Global
Food Safety Microbiology – Process Controls and Sanitation
Pepsico
https://www.linkedin.com/in/arnab-sarkar-95739215/
Arnab Sarkar is an experienced leader in food safety, quality management and commercialization in the consumer-packaged food and beverage industry. He has a strong track record of delivering balanced oversight of regulatory, food safety and quality performance, while delivering growth and profitability imperatives.

At present, he leads a global team of engineers, food microbiologists and food chemists based in 12 countries across the globe. His team is responsible for ensuring safety of products that PepsiCo sells globally as the second largest consumer packaged food and beverage company in the world. He joined PepsiCo in 2007 based in California as a research and development engineer. In his 14-year career at PepsiCo, he has done multiple roles with growing responsibilities in food process development, applications research, quality assurance, and food safety. His career has given him the privilege of working and living in various cities around the world including Los Angeles, Chicago, Dubai and New York, and he currently resides in suburban Chicago. He is recognized as an expert in food processing particularly in areas of aseptic processing, beverage foods, thermal process validations and food safety through microbiological controls. Prior to joining PepsiCo, Arnab worked for Mars Inc, as process engineer responsible for application of engineering technology for 3 years.

Arnab has a BS degree in Engineering from Tamil Nadu Agricultural University, India; and MS and PhD in Biological and Agricultural Engineering from University of California, Davis. He is the author of several peer reviewed journal articles, book chapters and patents.

His interests outside of work include spending time with his family, hiking and travel. He is active in the industry forums including Institute of Food Technologists, Institute of Thermal Process Specialists, UGA- CFS, and American Society of Quality.
Presentation Materials
Presentation Recording

(.mp4 | 312 MB)

Download

Presentation Slides

Revealed Vulnerabilities in the Food Industry Including Ideas to Move Forward [Wilger] (.pdf | 1.4 MB)

Maintaining Food Safety During a Global Pandemic [Sarkar] (.pdf | 1.3 MB)

How FDA is Working to Address Food Supply Chain Challenges [Boon] (.pdf | 1.7 MB)


Download
Download Download