Impact of the Pandemic on the Food Supply
JIFSAN-CFS3 Advisory Council Winter Webinar
Impact of the Pandemic on the Food Supply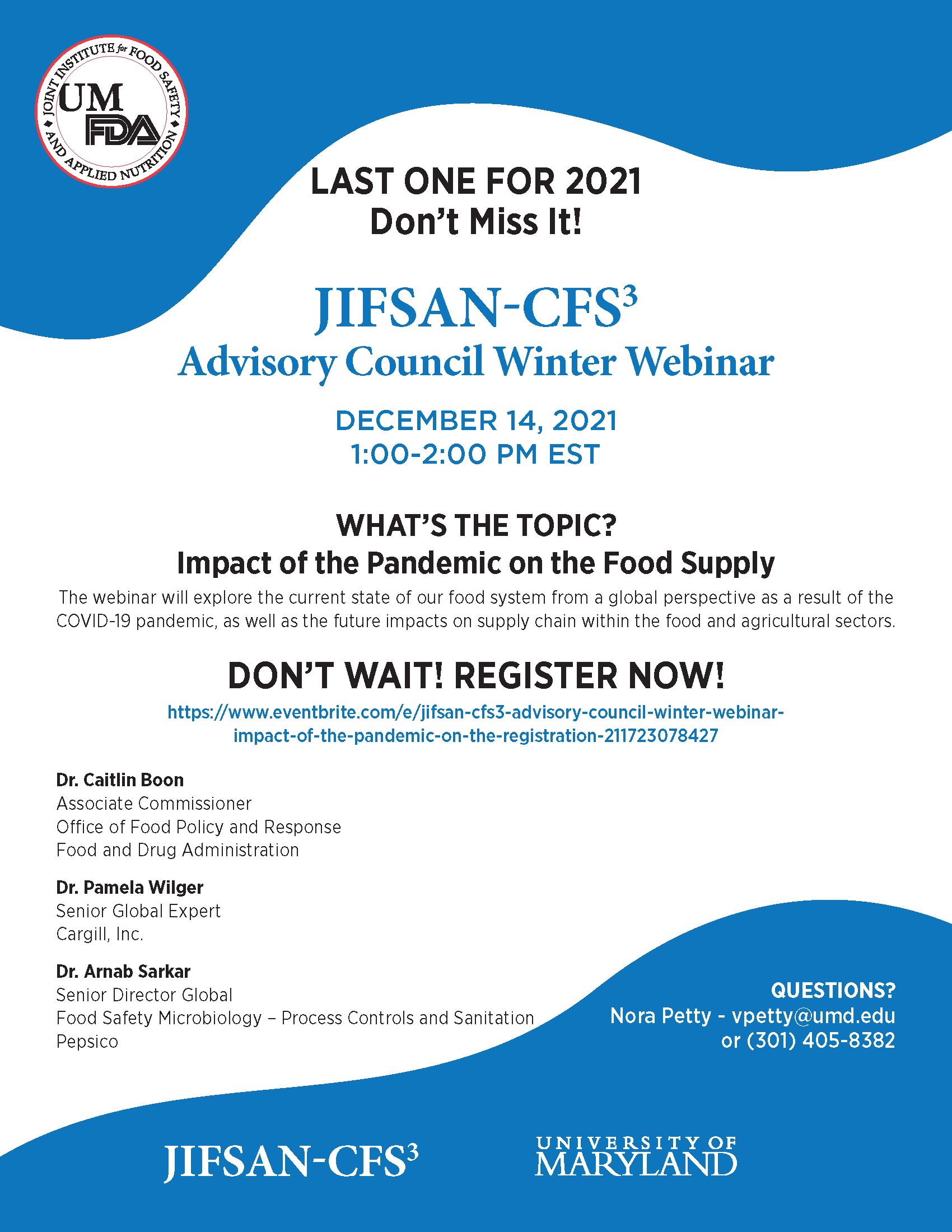 December 14, 2021
1PM - 2PM EST
Program Description
This webinar will explore the current state of our food system from a global perspective as a result of the COVID-19 pandemic as well as the future impacts on supply chain within the food and agricultural sectors.

The COVID-19 pandemic has revealed the growing levels of vulnerability within our global food supply. COVID-19 impacts have led to severe and widespread increases in global food insecurity, affecting vulnerable households in almost every country, with impacts expected to continue through 2021, into 2022, and possibly beyond as the Delta variant continues its spread. Despite the many complex challenges faced, resiliency and collaborative opportunities have emerged to drive positive change in regulations, labeling and supply chain distribution.

We will explore how COVID-19 may strengthen the ability of sectors to work together in more integrated ways through policy, risk assessment and risk mitigation.

An introduction to how discussions around food and food systems must intersect with health and the environment will be presented, as well as critical outcomes from this new normal.
Winter Webinar Speakers
Dr. Caitlin Boon
Associate Commissioner
Office of Food Policy and Response
Food and Drug Administration
Dr. Pamela Wilger
Senior Global Expert
Cargill, Inc.
Dr. Arnab Sarkar
Senior Director Global
Food Safety Microbiology – Process Controls and Sanitation
Pepsico
Register Here