JIFSAN Held Panel Discussions & Presented at the International Association for Food Protection (IAFP) Annual Meeting
Dr. Rose Omari (CSIR-STEPRI, Ghana) and Dr. Clare Narrod (JIFSAN) coordinated a panel to discuss "Strengthening Food Safety Education and Research Across Programs and Departments in Universities."  Panelists from Nigeria, South Africa, Ukraine, Canada, and the United States discussed the multidisciplinary nature of food safety, the skills needed by food safety professionals, and creative mechanisms and strategies to develop effective training programs.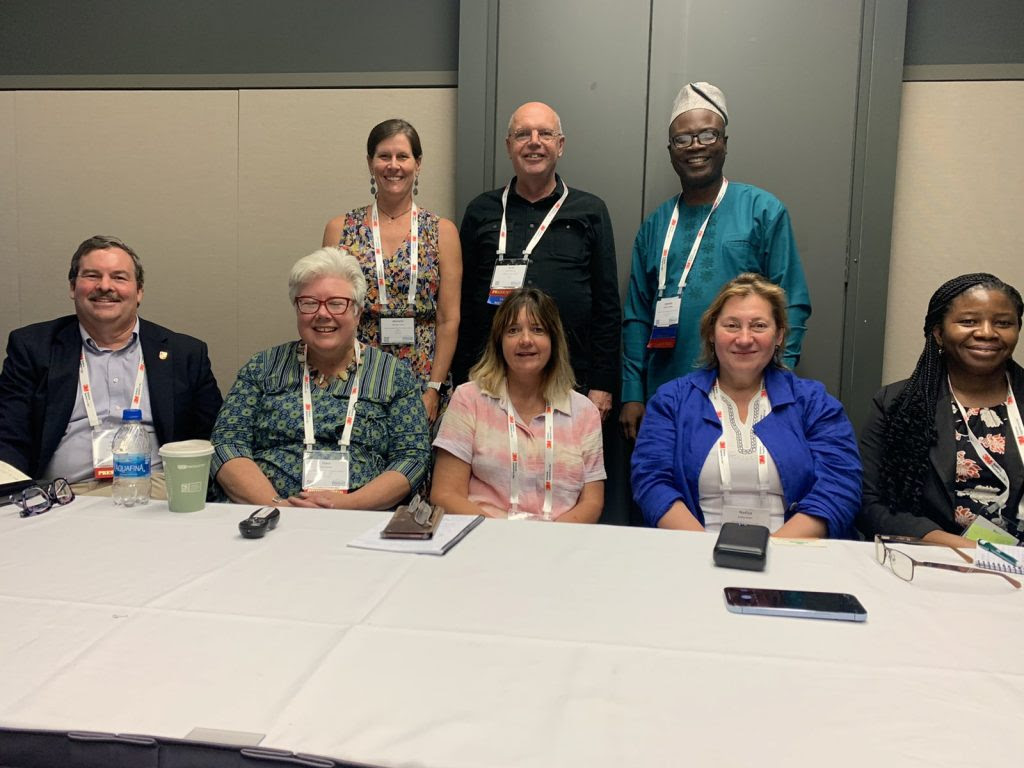 IAFP panel: (L-R): William Hallman, Rutgers; Clare Narrod, JIFSAN; Elna Buys, U of Pretoria;
Nadiya Boyko, Uzhorod National University; Rose Omari, CSIR-STEPRI; Michelle Embry, HESI;
Keith Warriner, U of Guelph; Adewale Olusegun Obadina, Federal U of Agriculture, Abeokuta.
Drs Clare Narrod (UMD-JIFSAN) with Rita Vera (FDA), Ana Marisa Cordero (IICA) and Dr. James Rushing (UMD-JIFSAN) assembled a panel on Lessons Learned from Produce Safety Rule Trainings to International Audiences in Latin America based on the training, monitoring, and evaluation work of IICA and JIFSAN.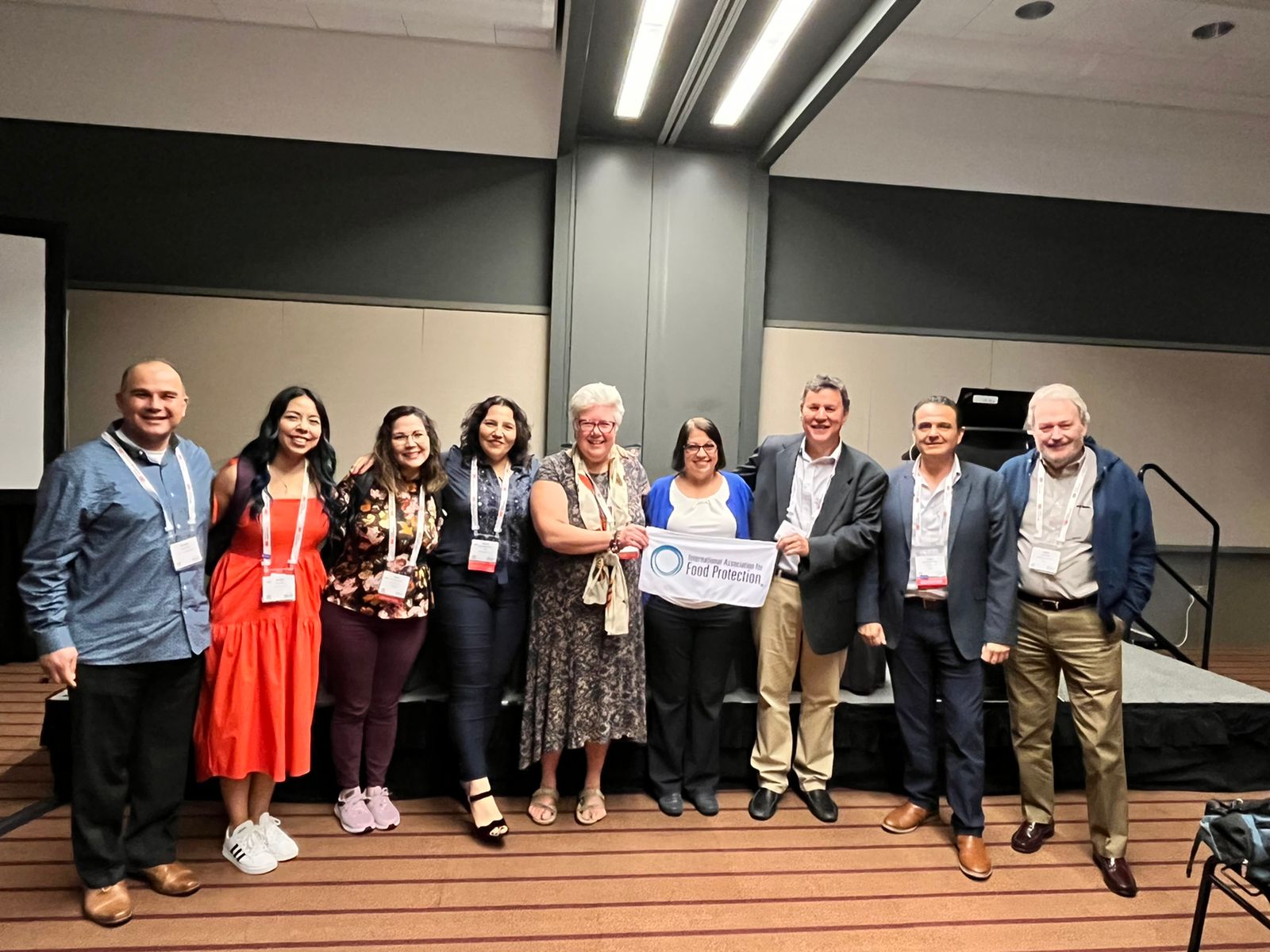 Speakers and some of the participants at the symposium.
Socrates Trujillo, FDA-Office of Applied Research of Safety Assessment (OARSA); Arenis Pinon,
Food Safety Consulting & Training Solutions (CTS); Rocio Ortego, CTS;  Noemí Zúñiga Thimeos -
Inter-American Institute for Cooperation on Agriculture (IICA); Clare Narrod, UMD-Joint
Institute for Food Safety & Applied Nutrition (JIFSAN);  Ana Marisa Cordero, IICA; Juan Silva,
 Mississippi State University; Sergio Nieto-Montenegro, CTS; James Rushing, UMD-JIFSAN.
Drs Mohammed Amin, Mohammed Hossain, Subarna Roy, Sumita Saha, Md. Rayhanul Islam, Zahid H. Mahmud, Md. Serajul Islam, Clare Narrod, Salina Parveen and Mohammad A. Islam presented findings from a Feed the Future (FTF) Fisheries project study aimed at estimating the prevalence of fecal pathogens in two most consumed fresh fish, tilapia and pangas, from retail markets in Dhaka city, Bangladesh.  The poster was entitled "Assessment of Fresh Fish in Retail Markets for Contamination with Major Fecal Pathogens and Antibiotic-Resistant Organisms"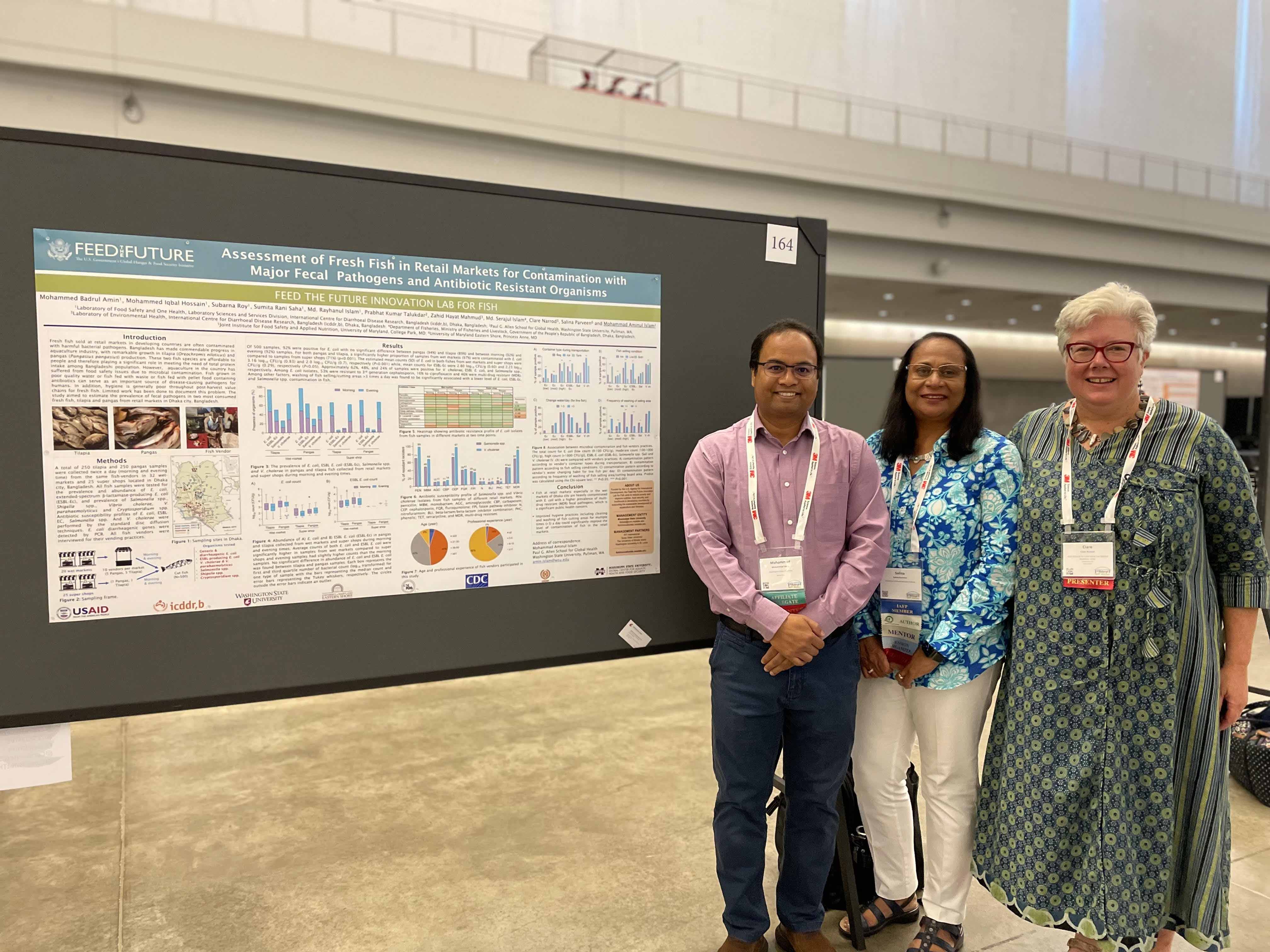 Drs Amin Islam, Salina Parveen, and Clare Narrod