CTI Description & Rationale
Description
Collaborative Training Initiatives (CTI's) are virtual country-led training programs where JIFSAN works to train a cadres of country lead trainers through a process called training of trainers (ToTs) who then through multiplier trainings that may involve additional trainers, university teachers, religious leaders or other participants reach growers, processors or others in the country or region as depicted in the figure below. The establishment of at CTI can take a variety of approaches.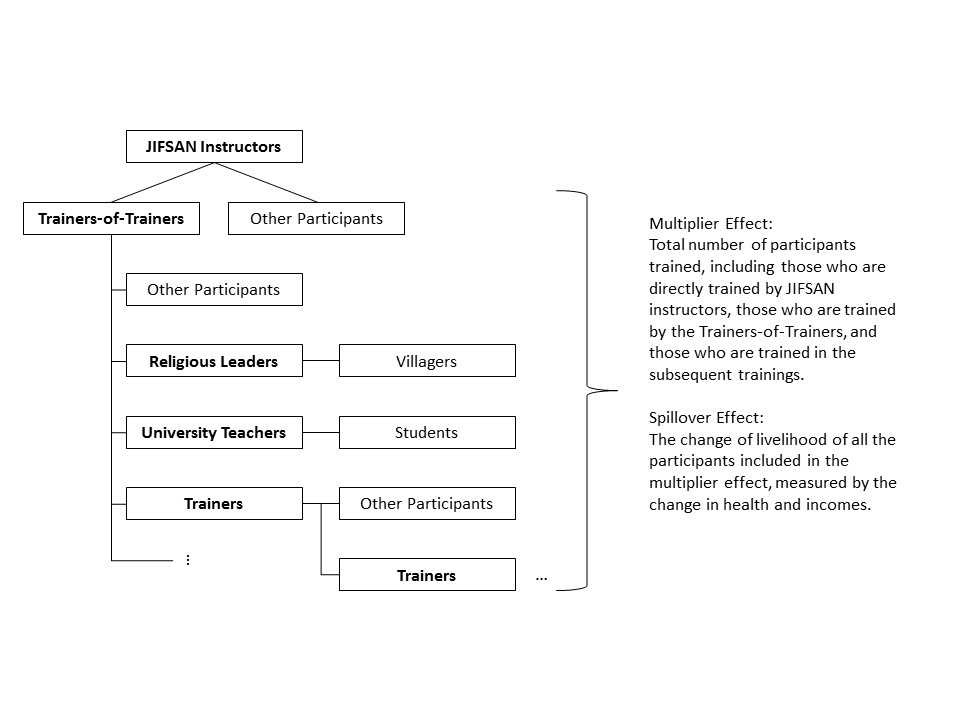 Rationale
Such CTI's were formed as it became clear over time that JIFSAN did not have the needed resources to meet the international training demand.  In 2010 JIFSAN started the process of developing in-country collaborative training programs as a way to leverage its existing training resources through in-country partnerships, which results in the training of a cadre of in-country trainers, who then are responsible for conducting multiplier trainings within their country.
The impact of any CTI is expected to go farther than just helping to ensure the safety of food exported to the U.S. It is anticipated it also will improve the safety of the country's domestic food supply and the health and livelihoods of those producing and handling the food. JIFSAN's metrics team has established an approach to measure such impact in the short, medium and long term (link to that page on metrics page) and is in the process of monitoring the impact of such efforts.