The flagship training program at JIFSAN in 2000 was for Good Agricultural Practices (GAP) for fresh produce. Click here for a history of the GAP program. In the first GAP program, JIFSAN partnered with the Inter-American Institute for Cooperation in Agriculture (IICA).Since then, this partnership has been engaged in almost twenty international training programs for fresh produce.
With the release of the FSMA Produce Safety Rule (PSR) and the creation of the Produce International Partnership (PIP), the ties between IICA and JIFSAN became more pronounced. The two have worked together continuously since 2016 in all of the fresh produce food safety offerings listed below. The training location, date of the training program, and numbers of participants are provided.
Table 1: Programs offered by the Collaborative Training Initiative of the Americas, listed by location, training dates, numbers of participants, and program type: GAP=Good Agricultural Practices; GT= Grower Training; TTT=Train the Trainers.
| | | |
| --- | --- | --- |
| San José, Costa Rica (GAP) | July 11 - 15, 2016 | 37 |
| Lima, Peru (GAP) | March 13-17, 2017 | 50 |
| Managua, Nicaragua (GT) | August 7-11, 2017 | 68 |
| Kingston, Jamaica (TTT) | August 22-25, 2017 | 42 |
| Santo Domingo, Dominican Republic (TTT) | October 16-19, 2017 | 34 |
| Guatemala City, Guatemala (TTT) | October 24-27, 2017 | 32 |
| Lima, Peru (TTT) | November 7-10, 2017 | 46 |
| Tegucigalpa, Honduras (TTT) | March 6-9, 2018 | 38 |
| San Luis Potosí, Mexico (TTT) | May 31 - June 2, 2018 | 61 |
| San José, Costa Rica (TTT) | September 17-21, 2018 | 60 |
| Mazatlán, Mexico (TTT) | October 22-25, 2018 | 65 |
| Buenos Aires, Argentina (TTT) | November 5-8, 2018 | 40 |
| San José, Costa Rica (TTT) | July 15-19, 2019 | 61 |
During the 2016 program held at IICA headquarters in San José, Costa Rica, representatives from JIFSAN and IICA discussed the possibility of developing an MOU to formalize the collaborative arrangement. Because of the shared experiences of the two entities and their like-minded approaches to food safety training, a final agreement was reached in a timely manner and signed by all parties in 2018 for the establishment of the Collaborative Training Initiative of the Americas (CTIA).
The MOU does not change the manner in which JIFSAN and IICA have worked together. It does, however, demonstrate a commitment from one organization to the other to strengthen food safety capacities in the Americas by implementing national and regional projects that address specific gaps and needs. In order to achieve these strategic objectives, several types of cooperation were set forth, as follows:
a. Training and capacity development through exchanges, workshops, courses, seminars, study trips, and joint facilitations;
b. Technical cooperation for the preparation and execution of projects related to the strategic objectives mentioned above;
c. Exchanges of information, if and as required or beneficial, under such restrictive terms as may be appropriate to the specific cooperation agreement including but not limited to nondisclosure agreements or material transfer agreements as required;
d. Direct advisory services, provided by technical missions or individual experts;
e. Development of project proposals to leverage funds that allow for the design and implementation of new projects.
Other Clauses of the MOU describe the Operating Procedures, Responsibilities of the Parties, Financial Arrangements, Reciprocity and Intellectual Property, and other standard legal statements as required by each institution.
The narrative of the MOU is written in such a way as to promote collaboration and cooperation, rather than being prescriptive or otherwise inhibiting the intended spirit of the document. When a new training program or other project is identified, the roles of all partners are discussed and agreed upon before planning is far advanced. There has been a remarkable absence of misunderstandings or disagreements in the way that business has been conducted.
It must be emphasized that, although IICA and JIFSAN are the only partners identified in the MOU for the CTIA, numerous other agencies and individuals are invaluable partners in the development, planning and delivery of training programs. The acronyms are familiar to those who work in fresh produce food safety in the Americas: PSA, US-FDA CFSAN and LAO, USDA-FAS, US-AID, MOA, IESC, SENASA, SAGARPA, SENASICA and possibly others not named.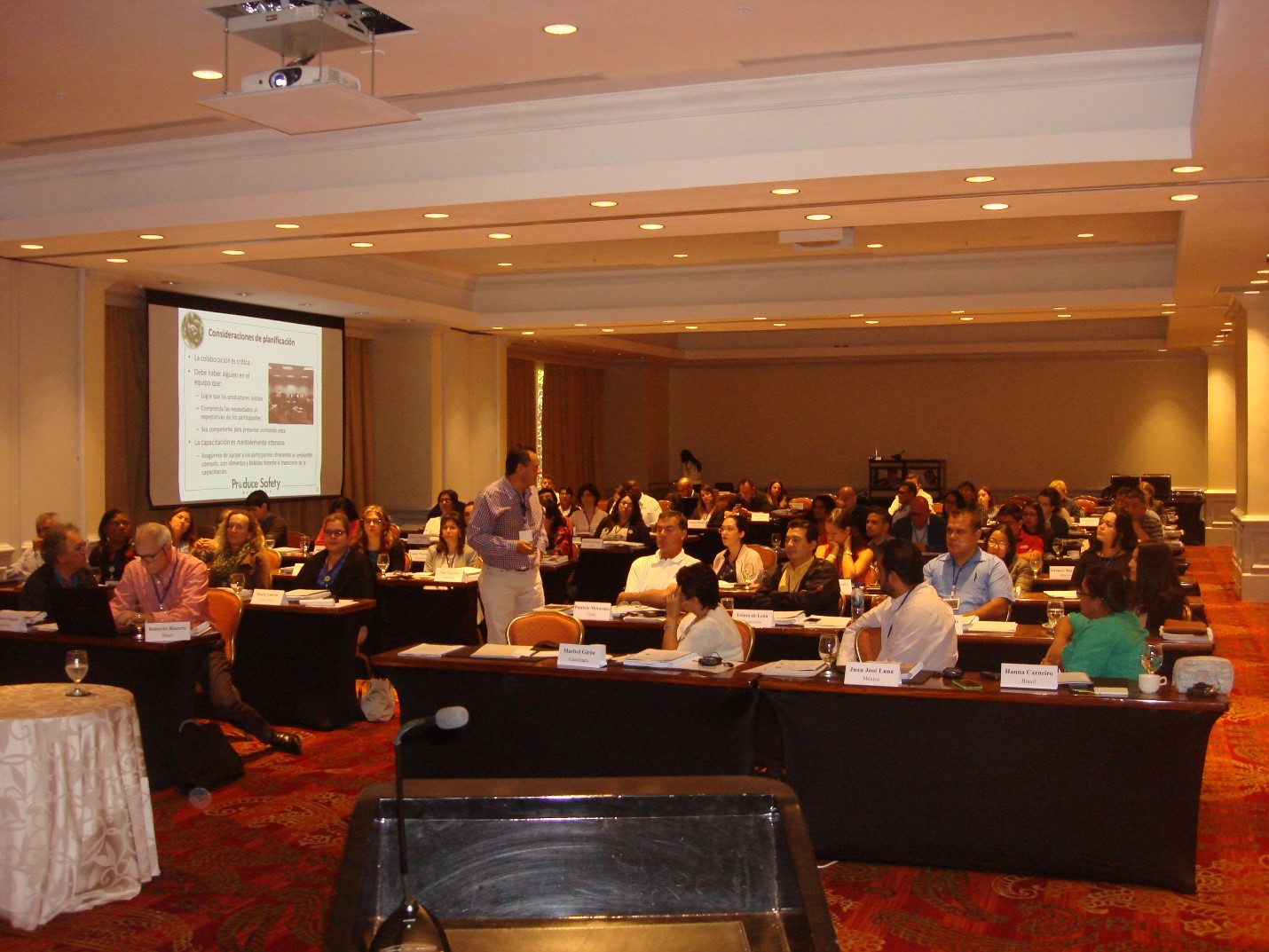 Photo of a Produce Safety Rule training session in San José, Costa Rica in 2018.
The CTIA represents a significant step forward in assuring the sustainability of capacity building in the Americas. The MOU is a foundation with flexible guidelines upon which new projects can be introduced or old projects renewed.
Contact us if you would like to learn more about the CTIA.